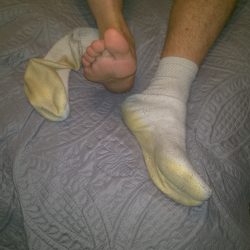 Member Since: May 28, 2018

Rating: (

100%

)

Rated By (

8

)

| | | | |
| --- | --- | --- | --- |
| | Another amazing item from this seller. Awesome guy to deal with!! Thx again | rowanalong | 2019-04-08 |
| | I ordered a three pack of sweaty socks from these guys, they did not disappoint! The socks were still soaking with sweat when I opened them, I loved the dirty sweat prints on the bottom of the white socks, good communication, great seller! | Kenben62388 | 2019-04-03 |
| | Very good socks I received. Really enjoyed them. And response and communication Excellent. Will definitely try them out again. Thx Guys | mascstud50 | 2019-03-09 |
| | Great items! Excellent communication and smooth transaction. Would definately purchase again! Thx!! | rowanalong | 2019-01-04 |
| | Got a pair from each of them and they do not disappoint! Quality service and disgusting (but in a good way) socks! | byill | 2018-11-29 |
| | These lads produce some seriously rank socks. The real thing! Easy to work with too. Highly recommended!!! | skatedadtor | 2018-10-01 |
| | Oh man, these guys\' socks are amazing. I asked for some seriously smelly socks, and they delivered. Can\'t wait to get more! | iawtc0 | 2018-09-09 |
| | Excellent product. Nice service and smooth conversation. | mscqnk5b | 2018-08-01 |
Description
Hot English male living with hot Irish lad.
We spend all week working on the farm, going to the gym about 3 times a week. Love cycling and football.
Love lads in footy kits, smooth and hairy guys.
Spend my time sweating out socks and all kinds of underwear and sportswear just for you guys out there. Have fun with the guys at the footy club after time if you know what I mean, so I can customise your orders with all sorts of funk, don't be afraid to ask. Can also do cock pics and videos, depends what you are in to!