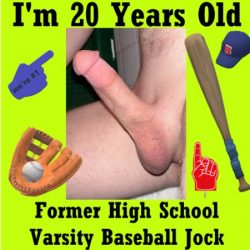 Member Since: March 1, 2019

Rating: (

100%

)

Rated By (

11

)

Rating
Feedback
Rated By
Date

I'm a repeat customer and Troy always delivers!! I got his dirty shock doctor jock strap along with three pairs of his ripe socks, my room smells like his locker right now and I couldn't be happier! The stains and the stench on the jock show all the hard work he's put into it, definitely smells like it's been worn for months! All his socks were ripe and stained and smelled like they had never been washed, this guy is the real deal, I've been buying on socktrade for a couple years now and of all the sellers on here Troy by far gets his gear the smelliest and dirtiest on here, Thank you!!

Kenben62388
2019-05-07

I really like the smell of the socks and the also like the pics you sent. I will definitely be a repeat customer. I appreciate how you went out of your way to make sure I was happy with my order. Thank you very much

rmgaude3
2019-04-12

Received my order yesterday. It was my 3rd order and it was perfection! As usual it better than you said it was. Keep selling and I will keep buying. Thanks again.

Ilovejockbutt
2019-04-10

Dude thank you so much!! Just opened your package and I'm beyond happy, I love the dirty sweat stains on your socks they smell and taste amazing! The pits of your sweaty gym shirt had my eyes rolling back into my head, my whole room smells like your gym bag right now and it's awesome! Your alpha scent is so strong and masculine, and you definitely go above and beyond putting hard work into your gear, I'll definitely be a repeat customer! Best gear I've ever had the honor to sniff, five stars! ⭐️⭐️⭐️⭐️⭐️

Kenben
2019-03-30

Easy and fun to work with. Great pictures, Thanks!

sworm87
2019-03-30

Socks got delivered today. You were right, I could not be happier with them they were even better than you described. I am glad I chose to buy from you. If you are a sock lover I highly recommend buying from this guy. He really knows what sock fetishists likes and wants and he certainly delivers an A+ product. Free shipping was a huge bonus to. Thanks again.

Mickeymouse
2019-03-29

Words can not describe how AWESOME both things were. I got 2 things and they were WAY WAY WAY better than I expected. Great guy to deal with. Thanks Troy! I really appreciate everything you did. I will definitely be ordering again, it was totally worth every dollar.

ErikTheRed
2019-03-28

Everything was perfect. Exactly as advertised. Seller went above and beyond to accommodate.

Socklover43
2019-03-26

Bought white ankle socks. Great communication. Fast shipping and provided a tracking number. Ordered wed night and the socks were delivered sat. Packaged in what looked llike foodsaver airtight sealed pouch. Socks still sweaty when I opened them and smelled great. Exactly as described. I highly recommend.

Footslavedaddy
2019-03-24

Thanks dude. Because you vacuum sealed the underwear it was still wet and gooey from where you shot your cum before sealing it. It was way better than I expected. You are now my go to guy for dirty underwear. Thanks!

Reply back from Author:

You are welcome. I always do a little bit extra for repeat customers. Next time you order something I will make sure you get a little extra something special.

Undieguy076
2019-03-23

Thank you so much!!! Not only did he ship my order for free, he quickly shipped out my order the next day and I received it 2 days later. I\'ve ordered 2 things now and will continue to order more. I was expecting a ziplock bag, but the socks were literally vacuum packed and heat sealed. The socks were still moist and sweaty when I opened them and smelled like he just took them off. I loved them!!!! Thank you so much, I can\'t wait until payday so I can order more. It was well worth the price I paid.

Reply back from Author:

You're welcome! I'm glad you enjoyed them.

RSjohnson
2019-03-23
Description
I'm Troy, I'm 20 years old, and I got interested in my own sweaty/dirty gear at a young age. It was shortly after that I got turned on by other peoples stuff, particularly my brother. My kid brother Blake, who is 18 years old now, and I had shared a room growing up. He once caught me smelling my dirty baseball socks while having "fun". He teased me for weeks! One day practice was cut short because the field was flooded and all we did was run laps in the gym. I got home early and snuck upstairs hoping to catch Blake in the act of having "fun" so he would stop teasing me. When I peeked into our room, I found him on his bed having "fun", but he had MY underwear that he took from the hamper on his face!!! He confessed that after catching me he tried it and liked it. A lot. Needless to say, I never got teased again. But to this day, we still swap our dirty stuff so we never run out of "fun" material. I have the best little brother in the world!

Things are tight financially, so I decided I would take my love for my "hobby" and capitalize on it. All my items for sale are high quality and legit, which is reflected in the price. I feel each items price is justified by several things – original cost of item, amount of time it took to funkify the item, etc. Most items I have for sale took weeks, sometimes months, to get them the way they are. Some people may find artificial ways to make things dirty or smelly. I don't. All my stuff is done naturally. Quality over quantity. Everything I have for sale has been worn exclusively by either me or my brother. I like to train and keep myself healthy, I played 3 years of varsity baseball. My brother Blake, he played 2 years of JV football and 2 years of varsity football. We both have played in city soccer leagues since we were 7 or 8 years old, and continue to play as adults. The item descriptions will give you details about who wore it and for how long.

Currently, I'm in college on an athletic scholarship. Because of this, I do need to maintain some level of anonymity. I will only take PayPal as payment for sales. However, I'm not allowed to have a PayPal account or accept any gifts or payments from people - I'm not going to risk my scholarship. To get around this, I use my cousins PayPal account and he pays me cash. All of my stuff is legit and I've been selling my stuff on other sites as well. All of my customers give me rave reviews. Upon request, I can share a link to these reviews.

If you have any questions, please ask.